| | | |
| --- | --- | --- |
| | | |
March 16, 1971 Wright again performed with THE BIG BAND OF RTV ZAGREB in Yugoslavia. A compilation, which combines recordings of the band between 1968-1980, 'Golden Hours-Big Band RTV Zagreb With American Soloists' (Jugoton), was released in 1983. Among the soloists were: Art Taylor, Art Farmer, Lucky Thompson, Johnny Griffin, Kai Winding and John Lewis.

From a guest performance of the SFB Big Band at the Festival Orphee D'Or comes an album of the same name, arranged and conducted by PAUL KUHN, recorded 197? live in Bulgaria and issued by Bulgarian label Balkanton. Soloists are: singers DONNA HIGHTOWER and JOY FLEMING, trumpeter MILO PAVLOVIC, ANDRÉ PAQUINET on trombone, LEO WRIGHT on alto and HEINZ VON HERMANN on tenor. There´s another LP by 'Paul Kuhn & SFB Tanzorchester', (exact date unknown) issued by German label Hoerzu.


Among the musicians were: again MILO PAVLOVIC, trombonist ÅKE PERSSON, LEO on alto, and EUGEN CICERO on piano; as always, arranged & conducted by PAUL KUHN. For other recordings with the SFB big band, see SFB-page (link at the bottom of this page).

Leo played at the '21. International Jazz Festival Zürich' on September 16, 1971, the same entitled album was released by MPS, later reissued as 'From Europe With Jazz', with ART FARMER, BENNY BAILEY, DUSKO GOYKOVICH, FRANCO AMBROSETTI on trumpets, SLIDE HAMPTON, JIGGS WHIGHAM, ALBERT MANGELSDORFF, ÅKE PERSSON on trombones, HERB GELLER on alto and oboe, HEINZ BIEGLER on alto, DEXTER GORDON and DON BYAS on tenor, SAHIB SHIHAB on bs, ISLA ECKINGER on bass and TONY INZALACO on drums.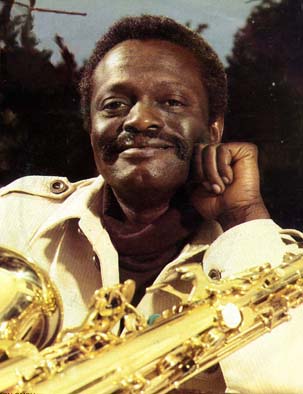 Leo in the 70ies
Leo´s sixth album 'It's All Wright - Leo Wright Plays 12 All-Time-Hits' (MPS/BASF) was recorded in February and March 1972 at Sono-Press-Studio in Berlin, with trumpeters MILO PAVLOVIC, CARMELL JONES, ROLF ERICSON and ACK VAN ROOYEN, trombonists ÅKE PERSSON, SLIDE HAMPTON, CHARLES ORIEUX and LOU BLACKBURN, pianist EUGEN CICERO, guitarists PIERRE LOUIS and INGO KRAMER, organist LOU BENNETT, JEAN WARLAND on electric-bass, TONY INZALACO on drums and PETER LEWISON and DAI BOWEN on percussions. It was arranged and conducted by JERRY VAN ROOYEN, and produced by GUNTHER HENNE.
The same year Leo Wright gave a guest performance in Finland.

During the early 1970´s Leo still worked regularly at the 'Jazzgalerie' in Berlin (Bundesallee 194b). In September 1973 Wright jammed in a session with members of the Count Basie band. He also played with pianist TETE MONTOLIU, in a group with BENNY BAILEY and HERB GELLER on trumpets, SLIDE HAMPTON on trombone and SAHIB SHIHAB on tenor, and worked with the SFB orchestra.
Leo played at the Jazz Workshop East-West 74 on May 2-5, 1974, as part of the 'Americans in Europe': Dizzy Reece, Kenny Drew, Jimmy Woode, Allen Blairman. Among the other performers were: Albert Mangelsdorff Quartet, Dollar Brand African Space Programme, Hans Koller Free Sound, Mal Waldron Quintet, Ken Rhodes Trio, Bela Lakatos Quartet, Bobby Jones Trio and the Bosko Petrovic Nonconvertible All Stars.

In the summer of 1975 Leo teamed up with DIZZY GILLESPIE again, performing 'Live at the Monterey Jazz Festival' (Fantasy/OJC), with LALO SCHIFRIN, JOE CARROLL, BOB CUNNINGHAM and CHUCK LAMPKIN. Leo got divorced, after a short marriage to Ingrid Röhnert, before he married his last wife, Austrian Jazz singer ELLY WRIGHT (Petronella Campbell) on October 28, 1975 in Berlin, where they both formed the group LEO WRIGHT AND FRIENDS - with ROLF ERICSON (tp), EDUARDO LISAVETZKY (p), ALADÁR PEGE (b) and ROLF STEPHENSON (dr).
| | |
| --- | --- |
| | |
From the session for Leo Wright´s 'It's All Wright', left pic: Dai Bowen and Peter Lewison; right: Rolf Ericson.
left pic: Milo Pavlovic; right: Lou Blackburn, Slide Hampton and Charles Orieux.
In June 1976 Leo played at the Jazz 200 Festival (Bicentennial) in Hamburg´s Stadtpark, recorded by NDR-TV. Among the musicians were: JIMMY WITHERSPOON, GENE CONNERS, BENNY BAILEY, HORACE PARLAN, JIMMY WOODE, ART TAYLOR and JOHNNY GRIFFIN.

In 1980 the Hungarian label Pepita issued an album, which has been recorded at the occasion of two Hungarian Jazz Workshops (in 1976/ 78) and at the Alba Regia Jazz Festival (in 1978): bassist ALADÁR PEGE´s album is simply entitled 'Pege', and besides Leo the following musicians appear: BENNY BAILEY on trumpet, ART FARMER on cornet, HANS SALOMON, JANUSZ NEMETH and JOSZEF BALOGH on reeds, BELA SZAKCSI LAKATOS on piano, ALEXANDER LAKATOS on viola, and VILMOS JAVORY and CZESLAW BARTKOWSKI on drums.

Together with the RICHARD SEDDIN ORCHESTRA Leo recorded 'Are You Lonesome Tonight' for Hansa/Ariola in Berlin (exact date and musicians unknown).
In January 1977 he played on an LP called 'Jazz Bei Freddy' for the Wunderteam label in Vienna, with FRITZ PAUER, JIMMY WOODE and TONY INZALACO; in February he performed at the 'Stars im Studio' - show of Berlin´s SFB-TV, together with ETTA JAMES.

was recorded (location unknown). It was released by the Roulette label and produced by Guenter Henne (personnel unknown). He recorded two tracks ('Flamingo' and 'Please Don´t Touch') in Berlin for the Toledo label and played on pianist RED GARLAND´s LP 'I Left My Heart In San Francisco' (Muse), recorded live at Keystone Korner in San Francisco in May, with CHRIS AMBERGER on bass and EDDIE MOORE on drums - it was reissued in 1999 by 32. Jazz Records.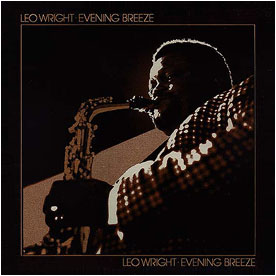 Leo also worked at 'Badenscher Hof' in Berlin and 'Dennis´ Swing Club' in Hamburg. In November he played with CANDY GREEN at the 'Jazzkeller' in Berlin, the concert was broadcasted in an SFB radio-show called 'Monday Music'.

In late 1979 Leo had a stroke in Berlin, which forced him to retire for some time. In early 1981 (?) he had a terminated contract with SFB, because the orchestra discontinued. After Leo played his last concert in Berlin at the 'America House' in July, he and his wife moved to Vienna.

In 1986 he performed on his wife Elly´s album 'Lady Champagne - ELLY WRIGHT & Friends' (Groove Records), recorded at Soundborn Studio in Vienna, with PETER MARINOFF on guitar, ALBERT MAIR on piano, MILAN PILAR on bass, KARL PROSENIK on drums and HAROLD SMITH on drums & vocals.
A concert of trumpeter Clark Terry was recorded in 1988 by the German TV station '3 Sat' and broadcasted as part of the 'All that Jazz - Concerto Massimo'-series, called 'Jazz Legends - Clark Terry', featuring: THOMAS HEIDEPRIEM (b), LEO (sax), KEVIN MULLIGAN (g), ROBERTO DI GIOIA (p) and ALVIN QUEEN (dr).

November 3, 1990 Leo performed at the 'Tribute to Charlie Parker' at the 7th Ingolstädter Jazztage and on the next day he played his very last concert, with JIMMY WITHERSPOON in Ingolstadt.

On Friday January 4, 1991 Leo Wright died in Vienna/Austria, from a heart attack on his way from the doctor. He was buried on January 24 in Vienna. His last recorded notes are on ELLY WRIGHT´s LP 'Listen To My Plea' (Groove Records), recorded in 1990, with RICHARD BOONE on trombone & vocals, PETER MARINOFF and THE SOPHISTICATED LADIES.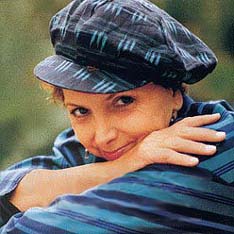 A BIG THANK YOU !!!

to Mrs. Elly Wright for biographical material and photos.
Elly Wright Autobiographie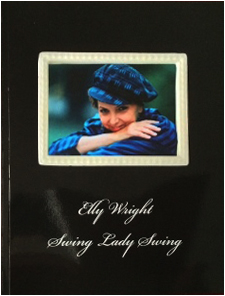 ELLY

WRIGHT

– SWING LADY SWING. DIE GESCHICHTE VON ELLY UND LEO WRIGHT

In dieser berührenden Autobiografie erzählt Elly Wright mit viel Witz und zahllosen Anekdoten von ihrem Leben. 1940 als Petronella Vasicek in einem Wiener Hinterhof geboren, startete sie künstlerisch zuerst als Tänzerin in Showprogrammen durch und wechselte später sehr erfolg- reich zum Jazzgesang, wo sie eine internationale Karriere hinlegte. Für Generationen von hei- mischen Sängerinnen war sie zugleich Lehrerin, Vorbild und Inspiration. Viel Platz widmet das Buch ihrem früh verstorbenen Mann Leo, der zu den besten Musikern in Amerika zählte und etwa mit Charles Mingus oder Dizzie Gillespie arbeitete. Ein Muss für Jazzfans und zugleich ein bemerkenswertes Dokument der Wiener Kunstszene nach dem Krieg. (JS)

Eigenverlag Elly Wright, Wien 2017, 216 Seiten, Softcover, zahlreiche Abbildungen
ISBN: 978-3-200-05367-0; Bestellung: ellywright@aon.at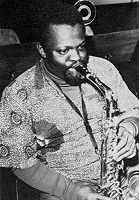 Leo Wright on facebook
autobiography

GOD IS MY BOOKING AGENT, by Leo Wright and Kevin Lambert
(Bayou Jazz Series), published: fall 1991,
Cassell Academic, ISBN: 0304336092;
Bayou Press, c/o Alyn Shipton,
117 High St., Wheatley, Oxford OX 9 IVE,
phone: 08677 / 3972; editor's e-mail: klambert@fnsg.com
from Leo Wright's final chapter: "...Leo Wright died of a heart attack about one year after we sold this MS to Bayou Press. ...I wrote his obituary for JAZZ TIMES, quoting Dizzy Gillespie, who called him a heavenly flutist... Musicians in San Francisco, Berlin and Vienna still talk about him."


[Bayou Press also published a Pony Poindexter biography]






Leo Wright with Olaf Kübler and Eddie Harris.





online biographies


music.excite.com
getmusic.com



online discography


dustygroove.com
bibliography



The Encyclopedia of Jazz

, Leonard Feather
(New York, 1955, revised and enlarged 2/1960/R1986).



The Encyclopedia of Jazz in the Sixties,




Leonard Feather (New York, 1966/R1984).




The Encyclopedia of Jazz in the Seventies,




Leonard Feather and I. Gitler (New York, 1976/R1987).





New Grove Dictionary of Jazz

(1988).




ro-ro-ro Jazz-Lexikon

,

Martin Kunzler (1988).




Reclams Jazzfuehrer

,

Bohlaender/Holler/Pfarr (1989).




Dictionnaire du Jazz

,

Carles/Clergeat/Comolli (1988,1995).





Fascination Jazz

, 14/8 (August 1965), (Ex-GDR)
has photos of Leo Wright.




Jazz picture photo book

, Ed Van Der Eksken, Netherlands edition (1991), publisher: Frament Uitgeverij,




ISBN 90 6579 086 1, softcover; with b&w photos of the jazz greats, incl.: Leo Wright, C. Baker, S. Rollins,




M. Davis, H. Silver, D. Ellington, L. Young and more.
articles
[
A
] = article written by the musician himself [
C
] = concert review [
F
] = feature article [
I
] = interview
[
P
] = photos [
O
] = obituary [
R
] = extensive record review
DOWNBEAT

28/11 (May 25, 1961), p. 35-36 [

R

]




Don DeMichael: Leo Wright 'Blues Shout' (Atlantic).




DOWNBEAT

29/3 (February 1962), p. 15, 37 [

F

]




Don DeMichael: Leo Wright. Young-Old Jazzman.






DOWNBEAT

(February 1, 1962) [

A

]


feature articles: Tuba, Horn with problems,
Leo Wright, C. Hawkins, B. Holiday... Blindfold Test: Vic Feldman.



DOWNBEAT

(August 1962)


10th Annual Jazz Critics Poll Results
with small photo features on, among
others, Leo Wright.

DOWNBEAT

31/30 (November 1964), p. 6 [I]




Leo Wright: Chords & Discords. Wright Replies.




DOWNBEAT

(1965), features Leo Wright as well.






DOWNBEAT

31/20 (July 1964), p. 64-73 [I]




30th anniversary issue 1934-1964. Jack Lind: Americans in Europe. A Discussion - with Leo Wright, Dexter Gordon, Kenny Drew.




DOWNBEAT

(Nov. 22, 1973)




features Leo Wright.
JAZZ JOURNAL




(UK) (April 1962),


Vol. 15, No. 4, p.2
[

F

/

P

]


cover: Count Basie. Graham Boatfield:
Leo Wright. see


>>

press

page




JAZZ JOURNAL

, 44/3 (March 1991), p. 19 [

F

/

O

]




Mark Gardner: Obituaries. Leo Wright.

JAZZ MAGAZINE




(F), #76 (Nov. 1961)




features Leo Wright

JAZZ MAGAZINE




(F), #131 (June 1966) [

F

]




Festival de Frankfurt:


Pony Poindexter,
Wolfgang Dauner, Klaus Doldinger, Conny Jackel,
Albert Mangelsdorff, Leo Wright, Charles Lloyd.




MELODY MAKER

(May 27, 1967), p. 6 [

F

]




J. Dawson: Wright. Breaking down the wall.




MELODY MAKER

, (November 11, 1972),




features Leo Wright as well.





METRONOME

, 78/12 (December 1961) [

A

/

F

]




p. 21 [

A

] Leo Wright: A Tribute to Johnny Hodges,




p. 26 [

F

] Dan Morgenstern: Introducing Leo Wright.
click images to enlarge
HUDBA PRO RADOST
[Joy Of Music or perhaps, Music Of Joy],
Jazz magazine (Prague/Czechoslovakia 1965) [
F
/
P
]
Octavo (about 5 1/2" x 8"), softcover, 24 pages.
Prague's answer to DownBeat - chock full of Jazz articles and b&w photos along with lists of who's playing where and when. This issue features Leo Wright on the cover, an article on his Quintet´s appearance at the first Prague Jazz Festival in 1964, and there´s photos of Kenny Drew, Baby Douglas, Candy Green, A. Condouant, Benny Bailey, Roland Haynes, Fred Braceful and others.
For the full (in Czech!) article see
>>
Leo's press page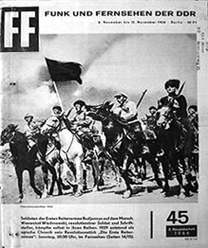 FF - Funk und Fernsehen der DDR
Nr. 45, 2. Novemberheft 1966 (6.11.-12.11.1966)
features Leo Wright



JAZZ PODIUM

[Germany],




14/8 (August 1965), 3 p. [

F

/

P

]




NN: Jetzt ein Berliner. Leo Wright.




read it in the

>>

press page





JAZZ PODIUM

[Germany],




20/1 (January 1971), 3 p. [

F

]




Horst Schade: Leo Wright griff zur Trompete. Nachlese von den




Berliner Jazztagen 1970





cover: Han Bennink -




<<

click image to enlarge




JAZZ PODIUM

[Germany],




14/10 (Oct. `65), p. 259 [

F

]




D. Lehmann: Response.





JAZZ EXPRESS

, 126 (Feb. 1991), p. 22 [

F

/

O

]




Peter Vacher: The Song Has Ended. Leo Wright.
| | |
| --- | --- |
| Nat Adderley 4 - Billy Hartman & Leo Wright, January 1987 | Leo with Jimmy Woode |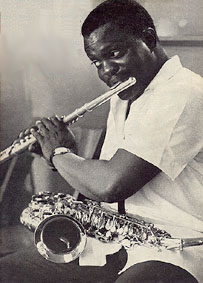 Leo Wright played with ...
(the photos, and some of the names, are linked to other websites)
Dizzy Gillespie

Carmen Mc Rae

Lee Morgan



Antonio C. Jobim



Julius Watkins

•

A

•

AHMAD ABDUL-MALIK, MANNY ALBAM, VICTOR ALENDE, JOE ALEXANDER, JIMMY ALLEN, CHRIS AMBERGER, FRANCO AMBROSETTI, CHARLY ANTOLINI, HANS-GEORG ARLT, DON ASHWORTH, MEGUIL AVILA

• B •

ELEC BACSIK, BENNY BAILEY, DAVE BAILEY, MILTON BANANA, DANNY BANK, JULIEN BARBER, RAY BARRETTO, KENNY BARRON, JOHN BARROWS, HARTWIG BARTZ, GERALD BEAL, LOU BENNETT, RICHARD BERG, EDDIE BERT, HEINZ BIEGLER, LOU BLACKBURN, FRANCY BOLAND, JIMMY BOND, LUIS BONFÁ, RICHARD BOONE, DAI BOWEN, FRED BRACEFUL, BOBBY BRADFORD, BOB BROOKMEYER, ROY BROOKS, BENJAMIN BROWN, PATTI BROWN, BOBBY BRYANT, JIMMY BUFFINGTON, JOHN BURDEN, BOB BURGESS, KENNY BURRELL, BILLY BUTTERFIELD, DON BUTTERFIELD, JAKI BYARD, DON BYAS

•

C •

CANDIDO CAMERO, RUNE CARLSSON, JOE CARROLL, RON CARTER, IKO & OSCAR CASTRO-NEVES, JON CHRISTENSEN, KEITH CHRISTIE, EUGEN CICERO, SELWART CLARK, KENNY CLARKE, JIMMY CLEVELAND, AL COHN, HENRY COKER, JULIO COLAZO, JOHNNY COLES, RUDY COLLINS, ANDRÉ CONDOUANT, GENE CONNERS, WILLIAM CORREA, BOB CRANSHAW, JIMMY CRAWFORD, BOB CUNNINGHAM

• D •

TADD DAMERON, PALLE DANIELSSON, ART DAVIS, RICHARD DAVIS, BOB DEGEN, ROBERT DI DOMENICA, BEN DIXON, JERRY DODGION, ERIC DOLPHY, DONALD DOUGLAS, AL DREARES, KENNY DREW, JACK MC DUFF, JOE DUKES, FRANKIE DUNLOP, GEORGE DUVIVIER, ROMAN DYLAG

• E •

ISLA ECKINGER, EL-JAYS, BILL ELLIOTT, DON ELLIS, ROLF ERICSON, BOOKER ERVIN, BILL EVANS, STICKS EVANS

• F •

GARY MC FARLAND, ART FARMER, PAUL FAULISE, ADI FEUERSTEIN, BERND FISCHER, TOMMY FLANAGAN, JIMMY FORREST, ERNIE FREEMAN, JOHN FROSK

• G •

RED GARLAND, ANDY MC GAVIN, HERB GELLER, STAN GETZ, ROBERTO DI GIOIA, BERNIE GLOW, ALLAN GOLDBERG, DON GOLDIE, NATHAN GOLDSTEIN, DEXTER GORDON, CANDY GREEN, GRANT GREEN, URBIE GREEN, JOHNNY GRIFFIN, GEORGE GRUNTZ, ROGER GUERIN

• H •

JIM HALL, SLIDE HAMPTON, HERBIE HANCOCK, EDDIE HARRIS, MICHEL HAUSSER, COLEMAN HAWKINS, LOUIS HAYES, TUBBY HAYES, ROLAND HAYNES, TED HEATH, THOMAS HEIDEPRIEM, HEINZ VON HERMANN, JAROMIR HNILICKA, MAJOR HOLLEY, RED HOLT, FREDDY L´HOST, TATE HOUSTON, LEX HUMPHRIES

• I •

&nbspTONY INZALACO

• J •

OLIVER JACKSON, ILLINOIS JACQUET, BILL JENNINGS, ALVIN JOHNSON, J.J. JOHNSON, OSIE JOHNSON, CARMELL JONES, HANK JONES, JOE JONES, PHILLY JOE JONES, RODNEY JONES, IVAN JULIEN, AARON JUVELIER

• K •

WALLY KANE, CONNIE KAY, RICK KIEFER, JIMMY KNEPPER, HANS KOLLER, LEE KONITZ, JAN KONÒPASEK, WOLFGANG KRAESSE, INGO KRAMER, RICHARD KUBERNAT, JOACHIM KUEHN, STEVE KUHN

• L •

CHUCK LAMPKIN, HAJO LANGE, MEL LEWIS, PETER LEWISON, EDDIE LOCKE, HARRY LOOKOFSKY, PIERRE LOUIS

• M •

EDSON MACHADO, GILDO MAHONES, ALBERT MAIR, AHMAD ABDUL MALIK, JUNIOR MANCE, JOSE MANGUAL, SHELLY MANNE, PETER MARINOFF, KLAUS MARMULLA, WENDEL MARSHALL, STU MARTIN, GEORGE MATTHEWS, ANTONIO DIAZ MENA, JIMMY MILLER, CHARLES MINGUS, BLUE MITCHELL, HERMAN MITCHELL, CHARLES MACK MOFFETT, TOROLF MØLGAARD, THELONIOUS MONK, WES MONTGOMERY, TETE MONTOLIU, JAMES MOODY, EDDIE MOORE, LANNY MORGAN, PECK MORRISON, LOUIS MUCCI, KEVIN MULLIGAN, HERMANN MUTSCHLER

• N •

JOE NAY, OLIVER NELSON, PAUL NERO, HEINZ NIEMEYER, ROBERT NORTHERN, JIMMY NOTTINGHAM, JACQUES NOUREDDINE

• O •

CHARLES ORIEUX, OSIRIS

• P •

WOLFGANG PAB, ANDRÉ PACQUINET, HORACE PARLAN, FRITZ PAUER, JOSE PAULO, MILO PAVLOVIC, CECIL PAYNE, DUKE PEARSON, ALADAR PEGE, ROMEO PENQUE, WALTER PERKINS, CHARLIE PERSIP, ÅKE PERSSON, HARVEY PHILLIPS, DAVE PIKE, MILAN PILAR, PONY POINDEXTER, HERB POMEROY, JEAN-LUC PONTY, AL PORCINO, SELDON POWELL, KARL PROSENIK, ZDENEK PULEC

• Q •

&nbspALVIN QUEEN, JOE QUICK

• R •

JIMMY RANEY, KAI RAUTENBERG, FRANK REHAK, DIETER REITH, JEROME RICHARDSON, PEPITO RIESTRIA, JACK DEL RIO, POLA ROBERTS, PETE LA ROCA, STAN RODERIC, WILLIE RODRIGUEZ, MICKEY ROKER, ACK & JERRY VAN ROOYEN, ANNIE ROSS, BARRY ROSS, RONNIE ROSS, CHARLIE ROUSE, ERNIE ROYAL

• S •

FRANK SCHIFANO, SIEGFRIED SCHWAB, JOHNNY SCOTT, RICHARD SEDDIN, BOLA SETE, CHARLIE SHAVERS, ERNIE SHEPPARD, SAHIB SHIHAB, RAY SHINER, JOHN SIMMONS, ZOOT SIMS, HAROLD SMITH, JIMMIE SMITH, STUFF SMITH, MARTIAL SOLAL, ARNETT SPARROW, HARRY STAMP, DON STEWART, TEDDY STEWART, IDREES SULIEMAN, ROBERT SWISSHELM

• T •

ART TAYLOR, GENE TAYLOR, JOSEPH TEKULA, CLARK TERRY, BOBBY THOMAS, MAURICE THOMAS, RICHARD THOMAS, NICK TRAVIS, ANDRZEJ TRZASZKOWSKI, BEN TUCKER, GEORGE TUCKER

• U •

MICHAL URBANIAK

• V •

CHARLIE VENTURA, EMILE VILAIN

• W •

MAL WALDRON, JIMMY WALLACE, JEAN WARLAND, CARL WARWICK, EBERHARD WEBER, PHILIPP WEST, CHRIS WHITE, HENRY PERCY WILCOX, JOE WILDER, RICHARD WILLIAMS, SHADOW WILSON, LEM WINCHESTER, BARBARA WINFIELD, JIMMY WITHERSPOON, PETER WITTE, ROLAND WITTICH, JIMMY WOODE, BRITT WOODMAN, PHIL WOODS, REGINALD WORKMAN, ARTHUR WRIGHT, RICHARD WYANDS

• Y •

FELIPE YANEZ, ELDEE YOUNG, LARRY YOUNG

• Z •

MIKE ZWERIN

• •

and many more
Joe Henderson

Lalo Schifrin

Houston Person

Bobby Bradford

Etta James

1
2
3 biography I discography
1
2
3
4
(original)
5
6
7
8
9
(compilations)
I
press
Leo was a member of the SFB-Big Band for several years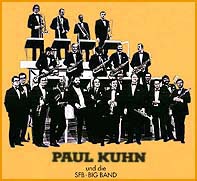 for more about the band, click on the image