| | | |
| --- | --- | --- |
| | | |
Another recording with DUKE PEARSON, Leo appears on, is 'Little Johnny C' (Blue Note) by trumpeter JOHNNY COLES, recorded July 18 and August 9, 1963 with: JOE HENDERSON on tenor, DUKE PEARSON on piano, BOB CRANSHAW on bass and PETE LA ROCA and WALTER PERKINS on drums.
Leo is also heard on BLUE MITCHELL´s Blue Note debut 'Step Lightly', recorded August 13, 1963, with tenorist JOE HENDERSON, HERBIE HANCOCK on piano, GENE TAYLOR on bass and ROY BROOKS on drums. This album was given a catalog number and even mastered, but went unissued for 17 years, it came out in 1980.
Two days later he played on 'I'm Shooting High' (New Jazz/Prestige) by pianist GILDO MAHONES, with organist LARRY YOUNG, KENNY BURRELL, GEORGE TUCKER and PECK MORRISON on bass and JIMMIE SMITH, OLIVER JACKSON on drums, was recorded for Prestige.

Leo Wright´s third album 'Soul Talk' (with KENNY BURRELL, organist GLORIA COLEMAN and drummer FRANKIE DUNLOP) was released by Vortex on November 1, 1963, three days after he moved to Scandinavia for 6 months.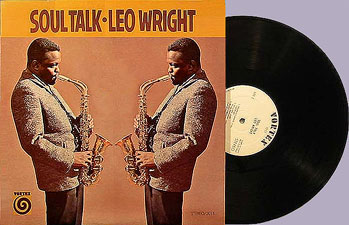 In 1964 Leo had an engagement at the 'Golden Circle' in Stockholm/ Sweden, THE Jazz club, where all the musicians met and performed, like George Benson (he was part of the trio of organist Jack Mc Duff together with drummer Joe Dukes), Ken Hunter, Max Roach and Albert Ayler, among others. Leo met trumpeter IDREES SULIEMAN, who also had an engagement there together with A. CONDOUANT.

Leo Wright played in Denmark, with a Quartet (members unknown) at the Holbæk Jazzklub, and in Norway, before he left for a tour to (then East-) Berlin and Czechoslovakia. He participated at the First Prague Jazz-Festival in October with his own group, featuring: trumpeters BENNY BAILEY or CARMELL JONES, bassist JIMMY WOODE, JOE NAY on drums, "DR. BLUES" CANDY GREEN or KENNY
DREW on piano, and ANDRÉ CONDOUANT. The Czech label Supraphon released the album 'Echoes From The Prague Jazz Festival' in 1965. Among the artists were BENNY BAILEY, A. CONDOUANT, CLARENCE "CANDY" GREEN, DONALD "BABY" DOUGLAS & THE BLACK JAZZ OF EUROPE, ROLAND HAYNES on bass, FRED BRACEFUL on drums, the PRAGUE DIXIELAND BAND and ZDENEK PULEC on trombone.

The same year Leo recorded two tracks together with THE EL-JAYS (exact date and location unknown) - 'It Is I' and 'I Wonder' were released as a 7 inch record on the Red Fox label. The first track later appeared on 'Pittsburgh Favorite Oldies: For Lovers Only, Vol. 3' (Itzy), the second one on 'Instant Ecstasy, Vol. 2' (Instant Ecstasy).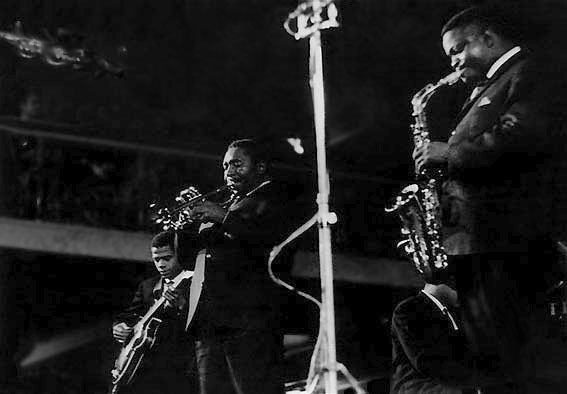 Leo Wright Sextet in 1964 at the first Prague Jazz Festival, from left: A. Condouant, Benny Bailey, Kenny Drew and Leo.
One month later, at the end of the tour, they went to (at that time West-) Berlin. First Leo performed at the 'International Club', owned by Douglas Seward, with pianist and Blues-singer CANDY GREEN, DIETER GÜTZKOW (b) and JOE HARRIS (dr); then he replaced Eric Dolphy, who had passed away much too early, at the Jazzgalerie. Then Seward´s new club, 'Dug´s Night Club', opened (in Schöneberg´s Hauptstrasse). The Leo Wright Quintet was engaged as the house-band, playing on almost every weekend - most of the time other musicians came to join them after their concerts, like: ERNIE SHEPPARD (Duke Ellington´s bass player), JOE HARRIS, CARMELL JONES, JIMMY WOODE, THELONIOUS
MONK, CHARLIE ROUSE, RON CARTER, DEXTER GORDON, JAKI BYARD, PONY POINDEXTER, ART FARMER, DON BYAS and BOOKER ERVIN. The owner of the club, Douglas O. Seward, was an American army sergeant; a lot of G.I.´s and Jazz aficionados, to whom Jazz was a religion, went there.
The Quintet also played at Berlin´s 'Blue Note' (Nuernberger Strasse) and at the 'Jazzgalerie' (Bundesallee). The latter club used to hire a rhythm section, from a few days up to three weeks at a time, which was accompanied by guest artists on a regular basis. Berlin remained Leo´s homebase until 1981, when he and his wife moved to Vienna.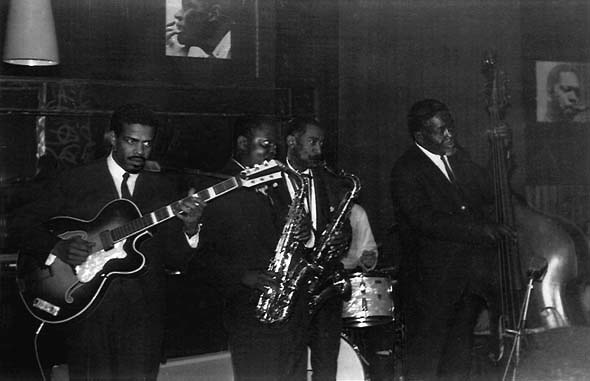 Probably at the Top Hat (in Berlin´s Apostel-Paulus Str.), around 1965, André, Leo Wright, Don Byas and Ernie Shepard.
January 29, 1965 Leo played in Hamburg at Hans Gertberg´s NDR-Jazz Workshop No.38 of German TV- and radio station NDR, with: RICHARD KUBERNAT, JAROMIR HNILICKA, IDREES SULIEMAN, MICHAL URBANIAK, ROLF KÜHN, RONNIE ROSS, ANDRZEJ TRZASZKOWSKI, ROMAN DYLAG and RUNE CARLSSON.

January 30th Wright performed at Jazz Workshop Ost-West 1965, at Bochum´s Ruhrlandhalle, recorded by NDR, with IDREES SULIEMAN, JAROMIR HNLICKA, RICHARD KUBERNAT (tp), ROLF KÜHN (cl), MICHAL URBANIAK (ts, ss), RONNIE ROSS (bs), ANDRZEJ TRZASKOWSKI (p), ROMAN DYLAG (b) and RUNE CARLSSON (dr).

Then Leo´s Quintet went on a German Tour, performing at the West-Berlin Jazz Festival, and in Dresden (East-Germany). The Amiga label released this concert from March 10 in two parts: 'Modern Jazz Studio No. 4' and "Flute & Alto-Sax", with A. CONDOUANT, a West-German rhythm-section: bassist WOLFGANG KRAESSE and drummer HARTWIG BARTZ (a former member of the Albert Mangelsdorff-Quintet), and "DR. BLUES" CANDY GREEN (p, cl, voc). Texas-born Clarence Green´s (not to be confused with the Blues-guitarist and vocalist of the same name) profile as a singer and pianist was influenced by Boogie Woogie, the Jump-and-Shout-style and
Kansas-City-Swing, which came from the industrial districts of the North.

March 17/18, 1965 Leo recorded with the GEORGE GRUNTZ ENSEMBLE 'Jazz Goes Baroque 2 - The Music Of Italy' (Philips) in Berlin: GEORGE GRUNTZ on harpsichord, LEO, SAHIB SHIHAB, RAYMOND GUIOT and STEFAN VON DOBRZYNSKI (flutes), PETER TRUNK (b) and DANIEL HUMAIR (dr); a concert was organized by Radio Bremen on April 14th.

From another NDR-Jazz Workshop concert, where he performed on July 2 at Recklinghausen´s Vestlandhalle, the Blackforest-based Saba label released '40. Jazz Workshop Band - Recklinghausen ´65'.
Among the players were: BENNY BAILEY, ROGER GUERIN, IVAN JULIEN, RICK KIEFER, MAURICE THOMAS (tp), ÅKE PERSSON, KEITH CHRISTIE, ERICH KLEINSCHUSTER, EMILE VILAIN (tb), ROLF KÜHN (cl, ts), JACQUES NOUREDDINE (as, b-cl), JOHNNY SCOTT (as, fl, cl), LEO (as, fl), TUBBY HAYES (ts, fl), HANS KOLLER (as, ts), RONNIE ROSS (bs, b-cl), GEORGE GRUNTZ (p, cembalo), MICHEL HAUSSER (vib), STUFF SMITH (v), JIMMY WOODE (b) and RONNIE STEPHENSON (dr). NDR radio-station broadcasted the concerts later the same year.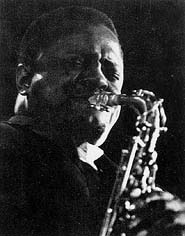 From the cover of "Flute & Alto-Sax".
July 23rd Leo performed at 'Treffpunkt Jazz' of Radio Süddeutscher Rundfunk in Stuttgart - the program 'Jazz aus Berlin' also featured JOE NAY, BENNY BAILEY, HERB GELLER, ERNIE SHEPARD and HELMUT BRANDT. The next day he played at the 'Laboratium' Jazzclub in Karlsruhe.

In August Leo performed with the WOLFGANG DAUNER TRIO, playing very successfully at Jazz-clubs in Esslingen, Karlsruhe, Pforzheim, Heidenheim and at the 'Club Voltaire' in Stuttgart. The same month he performed with the KURT EDELHAGEN ORCHESTRA, and TOOTS THIELEMANS and KAREL KRAUTGARTNER, at the WDR in Cologne.
In fall the live-program of political cabaretist WOLFGANG NEUSS 'Neuss´ Testament' (pun of his name, "neues" = "new") made waves in Germany. It was based on poems by François Villon, and accompanied musically by FATTY GEORGE (cl), FRITZ PAUER (p), ANDRÉ CONDOUANT (g), HANS RETTENBACHER (b), HARTWIG BARTZ / JIMMY PRATT (dr) and sometimes LEO WRIGHT. The shows took place at Berlin´s 'Theater am Kurfürstendamm' (where it premiered in the end of September `65), and at the theater of the old Congresshall - where TV-station Hessischer Rundfunk recorded parts of the show; unfortunately these tapes don't exist anymore, but there's a sound recording originally recorded by Philips) released by Austrian Preiser label and later by Contraer Musik.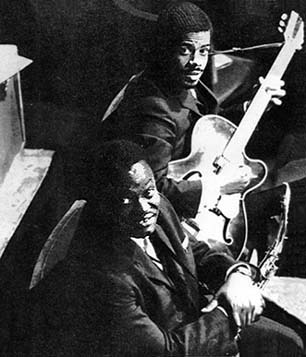 Leo and André Condouant performing 'Neuss´ Testament'
at Berlin´s Theater am Kurfürstendamm in 1965/66.
Between October 25 and 29th Leo played at the 41. NDR-Jazz Workshop in Hamburg. In the beginning of November the 'Arbeitsgemeinschaft (study group) of West-German Jazz-clubs' organized a tour, for which Leo was also booked.
Throughout the year Leo also performed at Berlin´s 'Dug's Night Club' together with A. CONDOUANT (g), DIETER GÜTZKOW (b), and JOE NAY (dr); in the beginning of August (the singing!) ERNIE SHEPARD joined them for ten nights. Leo´s last concert of 1965 took place on New Years Eve at 'Dug's', where he jammed with CARMELL JONES (tp), ÅKE PERSSON (tb), BOOKER ERVIN (ts), FRITZ PAUER (p), unknown (b) and (dr). SFB radio broadcasted the session.

May 1, 1966 Leo performed with singer ANNIE ROSS and saxophonist PONY POINDEXTER at the '10th German Jazz Festival Frankfurt', the same entitled album was released by Saba, featuring CARMELL JONES, ANDRÉ CONDOUANT, FRITZ PAUER, JIMMY WOODE and JOE NAY.
Two songs of that LP have also been issued in 1969 on the album 'Carmell Jones In Europe 1965-66' (Prestige) with the same lineup plus pianist FRANCY BOLAND, NATHAN DAVIS on flute and sax and KENNY CLARKE on drums.

Leo played together with CARMELL JONES (tp), HELMUT BRANDT (bs), FRITZ PAUER (p), ANDRÉ CONDOUANT (g), DIETER GÜTZKOW (b) and JOE NAY under the pseudonym of "THE BERLIN ALL STARS" at Berlin´s Sportpalast on November 5, 1966, the show was broadcasted by SFB radio station.

From 1967 on Leo Wright was a member of the SFB-orchestra/big band (Sender Freies Berlin = Radio Free Berlin) for several years, replacing Herb Geller. The outstanding big band played under the direction of pianist and arranger PAUL KUHN from 1968 to around 1975. For further information about the SFB-band see the link at the bottom of biography page 3.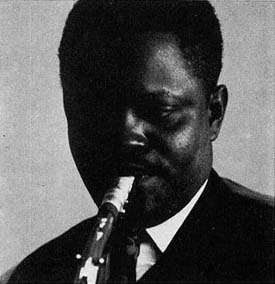 from the backcover of Annie Ross/Pony Poindexters 1966 album
'10th German Jazz Festival Frankfurt'.
At the Jazzgalerie in Berlin, in 1965/66, from third on the left: drummer Joe Nay, Leo Wright, bassist Dieter Gützkow, barmaid, André Condouant.
In winter 1967 Leo perfomed at a Jazz festival in Ljubljana / Yugoslavia; the main event at the Tivoli during that time was the European Championship in figure skating, but also Jazz musicians came to Tivoli again - a lot of musicians were performing during a two-day Jazz festival like the famous Jerzy Milian and some home artists. A peek of the festival was a performance of the Golden Gate Quartet.

Between 1967 and 1968 the LEO WRIGHT QUINTET, featuring:
FRITZ PAUER (p), ANDRÉ CONDOUANT (g), HANS RETTENBACHER (b) and PETER ECKMANN (dr), played at Berlin´s Jazzgalerie, SFB radio broadcasted some of the shows.

In April 1968 Wright played on 'Paul Nero's Soul Party' (Liberty), arranged by PAUL NERO, KLAUS DOLDINGER with DUSKO GOJKOVICH, BENNY BAILEY, WILLY SCHMIDT on trombones, KLAUS DOLDINGER, OLAF KÜBLER on tenors, JAN KONOPAZCEK (bs), organist INGFRIED HOFMANN, SIEGFRIED SCHWAB, JOE QUICK on guitars, bassist LOTHAR MEID and drummer WOLFGANG PAB.
June 2 & 3, 1968 Leo and three other top altoists, LEE KONITZ, PONY POINDEXTER and PHIL WOODS, teamed up with a fine rhythm section (PALLE DANIELSSON on bass and JON CHRISTENSEN on drums), led by pianist STEVE KUHN to record 'Alto Summit' (Saba/MPS), produced by Joachim E. Berendt, in Villingen/Germany.

As a member of the DON ELLIS BERLIN DREAM BAND, Leo performed at the Philharmonie in Berlin on November 8, 1968. Other members were: CARMELL JONES, ACK VAN ROOYEN, RON SIMMONDS, HARRY SAMP, DON ELLIS (tp), HENRY MASNICK, JEAN ORIEUX, ÅKE PERSSON, SIEGFRIED SCHMIDT (tb), unknown (tuba), KLAUS MARMULLA (as), LOTHAR NOACK (ts), DOMINIQUE CHANSON (ts, fl), HELMUT BRANDT (bs), DAVE HOLDINGER (clavinet, marimbaphon, xylophon, perc), FRITZ PAUER (p), JÜRGEN EHLERS, HAJO LANGE (b), DAI BOWEN, HEINT NIEMEYER, WERNER WINDLER (dr, perc) & the PETER CORNEHLSEN CHOIR. The performance was broadcasted by SFB radio.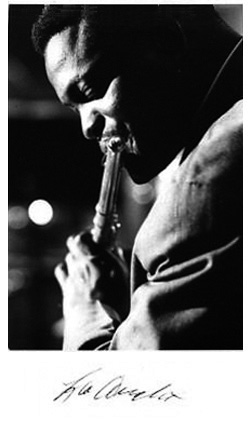 Leo Wright at Berlin's Philharmonie Jazztage, November 3, 1966
(photo © Landesbildstelle, Berlin)
In November 1969 Leo performed on violinist JEAN-LUC PONTY´s 'More Than Meets The Ear' (Liberty) with CARMELL JONES, drummer DANIEL HUMAIR and pianist GEORGE GRUNTZ, who also arranged the album.

May 18/19 of the following year he recorded with FRANCY BOLAND 'Going Classic' (Vogue) in Berlin, with JEAN WARLAND (b), TONY lNZALACO on drums and 24 strings led by HANS GEORG ARLT. Some songs of the album were recorded by a trio: FRANCY BOLAND (p, cond, arr), JIMMY WOODE and KENNY CLARKE.

Leo performed at the '11th International Jazz Festival Ljublijana `70' on June 4/6, 1970 in Krizanke/Yugoslavia together with THE BIG BAND OF RTV LJUBLJANA. The compilation was released by Helidon, among the performers were: The Flavio Ambrosetti All Stars with George Gruntz, Henri Texier and Daniel Humair, The Bobby Hutcherson-Harold Land Quintet, and The Zagreb Jazz Quintet with Bosko Petrovic and Art Farmer.
Wright played on the LP 'Stop! Watch! And Listen!' (MPS) of German vocalist KNUT KIESEWETTER, on July 2-3 in Villingen, with ACK VAN ROOYEN (tp, fl-h), GERD DUDEK (ts), HEINZ KITSCHENBERG (g), DIETER REITH (org), EBERHARD WEBER (b) and KENNY CLARE (dr).

November 5, 1970 Leo performed at the Berliner Jazztage. On the album 'Berlin Dialogue For Orchestra' (Flying Dutchman), a tribute to Berlin and sound portrait of the city in the Cold War, OLIVER NELSON led the BERLIN DREAM BAND, which was composed of members from both Berlin radio big bands: SFB and RIAS (Radio in the American Sector). It´s players were: MILO PAVLOVIC, RONNY SIMMONDS, CARMELL JONES, HARRY STAMP, MANFRED STOPPACHER (tp), SLIDE HAMPTON, ÅKE PERSSON, CHARLES ORIEUX, BARRY ROSS, KURT MASNICK (tb), FREDDY L´HOST (cl), KLAUS MARMULLA and LEO (as, fl, cl), ADI FEUERSTEIN and ROLF RÖMER (ts, fl), JAN KONÒPASEK (bsx, b-cl), KAI RAUTENBERG (p), HAJO LANGE (b), DAI BOWEN and HEINZ NIEMEYER (dr, perc).
Leo with Bert Thompson at the Jazzgalerie in Berlin in 1969; photo by Bob Howell (dr).
Thanks to Mr. Larry Brown Jr. for the pics !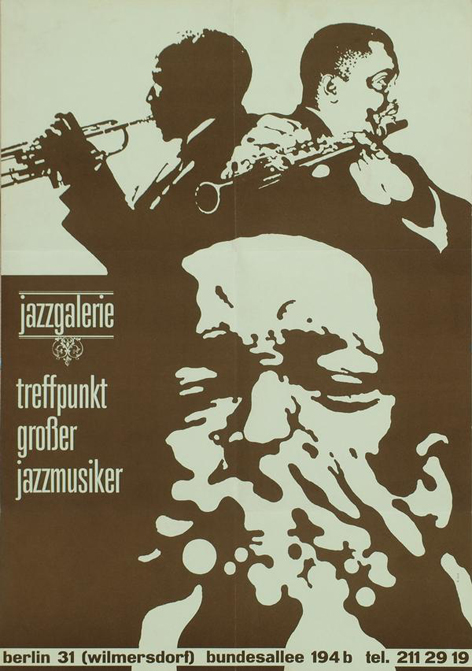 Jazzgalerie poster -Berlin, Germany 1968. Left Carmell Jones, right Leo Wright, below John Coltrane
(photo © 2008 by Al Karevy)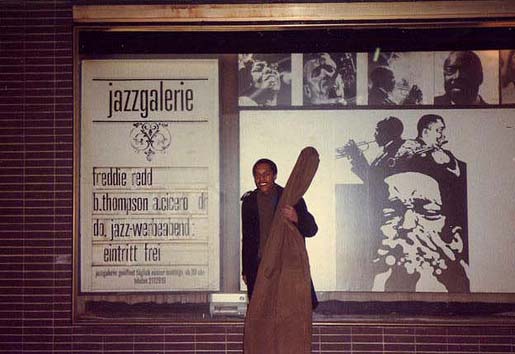 Bert Thompson at the famous Jazzgalerie in Berlin (Bundesallee 194 b). "As I carefully frame,
he says: Man, gaw-come on it's freezin' here!", Larry Brown Jr.

for more Jazzgalerie pics see Larry Brown's website




Leo was a member of the SFB-Big Band for several years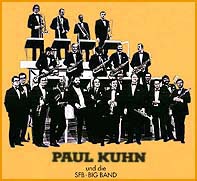 for more about the band, click on the image
1
2
3
biography I discography
1
2
3
4
(original)
5
6
7
8
9
(compilations)
I
press
the pages get expanded frequently, so please come back for more.